The Mittagundi Council are a group of passionate volunteers, working to ensure that Mittagundi keeps on providing programs well into the future.
What we do
It's the Council's role to uphold the aims of Mittagundi. These are set out in Mittagundi's Constitution. The Council's major role is to employ the Director and take care of safety, fundraising, community events plus much more.
Interested in getting involved?
If you'd like to contribute your time and expertise to Mittagundi we'd love to hear from you. Get in touch with Mike (Chair Person) chair@mittagundi.org.au for info.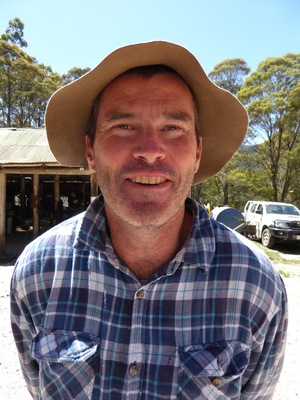 Chairperson
Joined Council: 2002
I first came into contact with Mittagundi as a young fella in 1986. 10 years later in 1996 I was a Co-Director for 3 years. What an incredible experience, that has changed my life for the better. After leaving Mittagundi as a Director I joined the Council somewhere between in 2002 and quickly became the Chair! I still couldn't get enough of the place. Finally I decided that I should let someone else have a go and resigned the Chair role, however I am back again now! I have been an Outdoor Education teacher and worked for rafting companies, however now I am a MICA Paramedic living in Bairnsdale
Vice Chair
Joined Council: 2010
Bruce was fortunate enough to attend Mittagundi as a young person and has since been passionately involved both as a staff and council member. He is a qualified lawyer practising in insurance litigation.
Honorary Solicitor
Joined Council: 2002
Helen was first introduced to the Victorian mountains on a Mittagundi course as a Year 9 student from CRC Melton. Helen has also been involved at Wollangarra including a stint as a staff member in 1993 and has been a member of the Wollangarra Council since 1996.
Helen has extensive remote area bushwalking experience, with young people and on private expeditions, in Victoria, Tasmania and the Northern Territory and treks in Nepal.
Qualifications: BSc(Hons) / LLB(Hons) (Melb), LLM (ANU)
Treasurer
Joined Council: 2015
Joe is a Partner at Perta Thomson Partners, an accounting practice with bases in Melbourne & Northern Victoria and is a qualified CPA. He is passionate about assisting with the growth and success of small to medium businesses and is also a lover of everything outdoors.
The combination of these two has bought him to this position and after being introduced to the organisation by a friend he agreed to take on the position of honorary treasurer and is looking forward to working with the rest of the council to steer the organisation into its next, and hopefully most successful yet, phase of operation.
Secretary
Joined Council: 2000
Greg has a keen interest in outdoor activities including cycling, walking and travel, interests which are shared with his wife Dawn. He has been on the Mittagundi Council for over 6 years and is currently the secretary.
Involved in the finance industry for over 25 years, he brings knowledge of investments and business analysis.
Kev started his teaching life at Traralgon High School in 1976 where he was first introduced to the wonders of the Victorian high country. This started a life of bushwalking and cross country skiing which still continues. In 1982 he arrived at Wangaratta High School, started teaching outdoor education in 1987, discovered Mittagundi and joined the council shortly after. He told his year 10's that if they didn't go to Mittagundi they would fail year 10 and be expelled from the school. The rest, as they say, is history.
Councillor
Richard (Dick) Alder has been involved with Mittagundi since joining the staff for the first Summer courses that were run from Glen Valley in 1977/78, subsequently joining the Council in the 1980's (nobody can remember exactly when). Dick has a background in public land management, forestry and firefighting and was Chair of the Council for a period during the 1990's . He has always been keen on all sorts of outdoor activities and just enjoying the bush, having been introduced at an early age, mainly through the Scouting movement. He remains passionate about the role of the outdoors in educating, influencing and developing young people and increasing awareness about the environment and the need for environmental stewardship. He says his main role is now as Mittagundi's corporate memory.
Formal qualifications : Dip.For.(Cres) B.For.Sc (Hons)(Melb)
Councillor
Joined Council: 2000
I have been a member of the Mittagundi Council for over 17 years.
Important aspects in my life are respectful and genuine relationships, my family, meeting and working with young people, art and culture, skiing, bush walking and being in the outdoors. I simply love sharing and nurturing all these things and more! My career to date has involved working in outdoor education, student development, and health and well-being. Platforms have involved outdoor and environmental programs/ camps/ expedition journeys, leadership courses and bush adventure therapy. I am a registered VIT teacher and have 20+ years of experience in both the education and youth sectors.
Anneke has a love for the outdoors which started at a young age through family camping trips and her school's outdoor education program. After hearing only great things about Mittagundi whilst studying Outdoor Education at university, Anneke visited and volunteered on a program and the following year in 2013 she spent an enjoyable year as a program leader. Now a teacher; it is the Mittagundi community and the valuable experiences offered to young people from all backgrounds that has kept her involved ever since.
Councillor
Joined Council 2017
Brooke was introduced to the outdoors through Mittagundi as a young person in 2009, in the following years she participated in many Mittagundi courses including Alpine Walk in 2011. 2013 was the year that Brooke worked as a staff member at Mittagundi and solidified her passion for the mountains and working with young people. Three years studying Outdoor and Environmental Education at La Trobe University has enabled her to base herself in Mansfield as an Outdoor Educator, working at local boarding schools, Timbertop and Howqua.
Brooke is strongly believes the mountains gives young people the time, energy and space to overcome challenges, which the lessons can be transferred into their everyday lives. She spends most of her time bushwalking, skiing and rafting in the Victorian High Country. Brooke is passionate about community, connecting with people and places and having fun!